Maintaining Access in the Brave New Subscription/Paywall World
Josh Marshall
Thank you for getting us off to a solid start in our second annual drive for The TPM Journalism Fund. As I explained yesterday, contributions to the Fund provide a relatively small (on a budget percentage basis) but critical part of the budget that allows TPM to remain vital and focused on original reporting about the most important stuff. It's really important for our future. I explain more about it here and you can click here to contribute.
This afternoon I wanted to tell you about an entirely different thing the Fund accomplishes, how it protects access for all TPM Readers even if they don't have the financial wherewithal to subscribe.
Read More
| News
Nearly three months after the head of Michigan's Republican Party unveiled an audacious plan that would allow GOP legislators to circumvent the state's Democratic governor's veto to pass restrictive voting laws, the contours of the scheme remain murky.
Read More
| Muckraker
Over the past two months of infrastructure talks, there's been a constant refrain from Republican negotiators: why not just use all the unspent COVID aid money to pay for the bill?
Read More
| Muckraker
A 22-year old Pennsylvania man raked in thousands of dollars by impersonating various members of the Trump family, Manhattan federal prosecutors said on Tuesday.
Read More
| News
In March last year, the anti-Semitic broadcaster Rick Wiles said the spread of COVID-19 in Israel's synagogues was a sign from on-high.
Read More
| Cafe
As a lifelong novel consumer who enjoys throwing myself into other worlds for hours on end, it probably won't come as a surprise that I don't read too many short stories.
Read More
| News
Months before Manhattan district attorney Cy Vance announced that he would not seek reelection for a role in which he oversees a criminal investigation into Trump and his company, a public defender and former reality TV star who had already been angling to replace him was tweeting about the DA office's investigation into Trump.
Read More
| News
"First of All, James Ball III, you are full of poop," wrote one Republican Party functionary to another in a bitter, paramilitary-tinged rift over the future of the GOP in Multnomah County, Oregon.
"That is a legal term used by bible believing Christians," the email continued, "who want to say something much much stronger but err on the side of caution."

Read More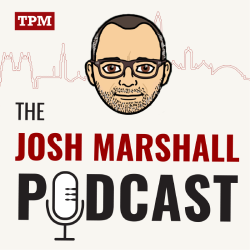 Ep. 177: Grading Garland's DOJ
Josh and Kate analyze the Department of Justice under Attorney General Merrick Garland and its pursuit of accountability (or lack thereof) for the Trump era...